Welcome back to the next entry in the Dead Space Love/Hate series. Today we're going to be looking at Dead Space 2, which is probably my favourite entry in the franchise and straight-up one of my favourite games ever. That said, there are still things that bother me even in my favourite games, so let's get into them…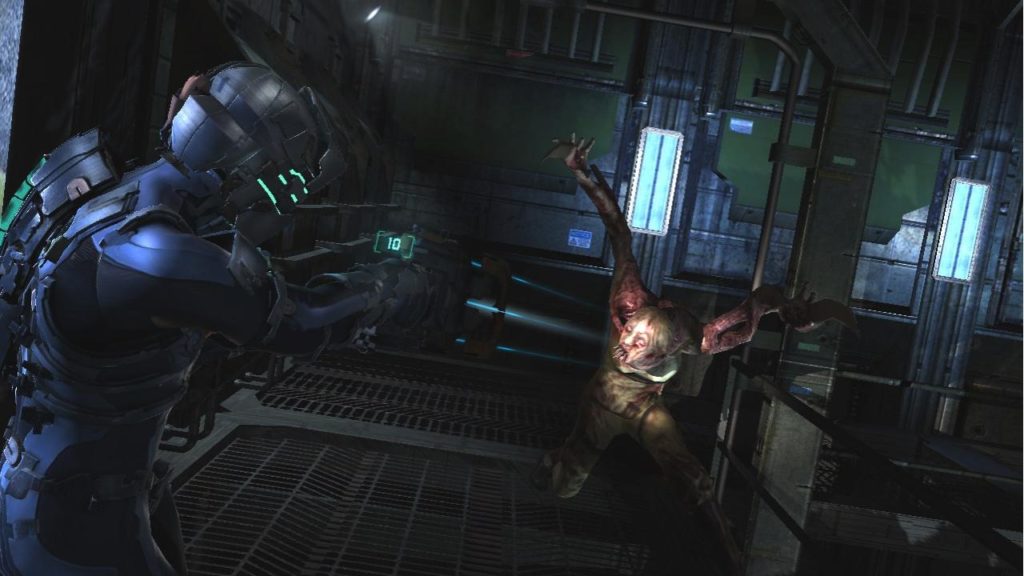 Love
Builds On The First Game's Strengths – For the most part Dead Space 2 plays like the first game did, but better. There's more of everything – more enemies, more weapons, more varied encounters, more intensity, more polish, etc. It doesn't take any huge leaps forward but it doesn't need to – it takes an already solid foundation and just makes it better in every way.
Balance of Horror and Action – A lot of people say that Dead Space 2 isn't nearly as scary as the first game, but I disagree. While Dead Space 2 has a bit more action, it still balances this with intense encounters and a pervasive scary atmosphere. Just as much as the first game you're having to balance your sparse reserves of health and ammo and plan out how you're going to survive every encounter. Big set-pieces like the Tormentor fight are still intense and terrifying and to this day I can remember moments of horror like fighting my way through the necromorph infested school.
Isaac Speaks! – Dead Space 2 really drives home how much Isaac Clarke's silent protagonist turn in the first game was a mistake, because he displays so much more personality here. It opens up so much more opportunity to interact and react to the world around you. It also makes it easier to show off his personality and the influence that the marker is having on his sanity.
Story Is Improved – One area where Dead Space 2 excels over its predecessor is its much more interesting story progression. Kicking off in one of the most viscerally-memorable opening sequences I've ever experienced in a game, Dead Space 2 throws you into the middle of an active necromorph outbreak as Earthgov and the Church of Unitology fight over control of Isaac. Meanwhile, Isaac is just trying to figure out how to destroy the marker and survive, while being taunted by haunting visions of his deceased girlfriend, Nicole, as his sanity is ripped away. It makes for a far more interesting narrative than the relatively simple "bitch work" in the first game. The story even explores some deeper themes, showing the toll that grief takes on the mind and the process of overcoming it.
New Enemies Are Amazing – Dead Space 2 introduces several new and iconic enemies to the series, making combat encounters even more varied than they were before. The best is by far the Stalkers, velociraptor-like necromorphs that hunt in packs, peeking out around corners at you and running away to find the best place to get a sneaky flank on. Hearing one of these things letting out their charge-scream when you don't know where it is coming from is panic-inducing. Pukers are also very iconic enemies, to the point where I had completely forgotten that they weren't in the first game. Their corrosive and slowing projectile vomit attacks can create really tense problems for Isaac if they aren't managed carefully and getting too close is a potential death sentence. The Pack and Crawlers are also great enemies and terrifying reminders that the necromorphs are merciless, wiping out all living beings regardless of their age.
New Weapons Add More Variety – There are three new weapons in Dead Space 2, adding more ways to dismember necromorphs. Of these, by far the coolest is the javelin gun, a weapon which shoots out huge javelins which can impale necromorphs and pin them to walls and, to add insult to injury, be electrocuted for additional damage. The detonator is also cool, acting as a grenade launcher that can be used to set traps around the environment. Finally, the seeker rifle is effectively a powerful battle rifle, allowing you to fire at distant enemies with greater precision. Furthermore, old weapons have been rebalanced to make them more useful, such as the pulse rifle gaining a far more useful grenade launcher alt-fire mode. The flamethrower's still pretty meh though.
Free Movement in Zero-G – The space sections of Dead Space felt gimmicky, but the feature is fully fleshed out in Dead Space 2, allowing you full ability to move and shoot in zero gravity. Put simply, it makes these sequences much more exciting and fun to play through.
Mixed
Severed DLC – The Severed story DLC for Dead Space 2 is such a mixed bag of glorious highs and disappointing lows. One the plus side: holy shit, it's a bite-sized narrative sequel to Dead Space: Extraction! It gives us even more of Dead Space 2's fantastic gameplay! We get some really interesting lore for the factions in the Dead Space universe! Twitchers are back! But on the disappointing side… it's barely an hour long (for ~$7)! Lexine's back and gets screwed over even harder than in Dead Space: Extraction (she's shunted into a relationship with Gabe, despite both of them not getting along at all in Extraction, and spends the entire game being damselled despite once again being the most important person in the Dead Space universe)! Ultimately, it's more Dead Space 2 so it's worth it for me, but I can't help but wish it was its own fully fleshed-out experience.
Hate
Obligatory Multiplayer – Like many AAA games of the era, Dead Space 2 has a tacked-on multiplayer mode that no one wanted or asked for, which exists purely to extend player engagement and sell multiplayer DLC packs. Don't get me wrong, there are tacked-on multiplayer modes from this era which were surprisingly fun, such as Metal Gear Online and The Last of Us, but that was because they offered some sort of fun unique experience that you couldn't get elsewhere. While the concept of playing as a necromorph is enticing, it is ultimately just not very fun to play and struggles to justify the mode's existence. Like… if I'm playing Dead Space 2, I'm there for the story mode. There's nothing here to keep me interested.
Hard Core Mode is BRUTAL – I don't bother to go for Platinum trophies unless I really enjoy a game, so the fact that I went for it on Dead Space 2 should show how much I was dedicated to the pursuit. To this day there is only one roadblock keeping me from the Platinum – beat the game in Hard Core mode. Can't be that bad, right? I soldiered through Zealot mode no problem, what more can the game throw at me? How about beating the game on Hard but with only 3 saves to get you through the whole 6+ hour runtime of the game? So not only do you have to plan out the points you save ahead of time, but if you reach that point and your health/ammo are low? Too bad, you're screwed. Oh, you died? Say good bye to an hour and a half of gameplay! And don't even think about having a life, you have to dedicate it to this game solely if you want to earn this trophy. Seriously, I just don't have the time to throw myself into this mode and deal with the frustration that it demands just to get a digital trophy. The fact that even 6% of players have beaten the game on this difficulty is insane to me.
Final Boss Fight… Again – Once again the final boss fight in a Dead Space game is questionable. After blasting through hordes of enemies and barely surviving the regenerating ubermorph, Isaac reaches the marker and gets dragged into a hallucination where he has to fight off Nicole, necromorphs and damage the marker. Do this three times and convergence is stopped… because the marker's creator has to be absorbed in order for it to work? What? The marker is destroyed because he managed to literally overcome his grief? It's better than the original Dead Space's ending and it makes sense thematically, but it's a weird-ass way to defeat the final boss for an otherwise straightforward game like this and just makes the lore around markers convoluted… Okay, that's a bit of a nit-picky hate, but seriously, this game is just so damn good.
Please follow and like us: