Resident Evil 6 is often considered the point where the franchise jumped the shark, leading to Capcom's total rehaul of the series with Resident Evil 7 and REmake 2. I also never played it and didn't know a whole lot about it, other than that there were three wildly-different main campaigns and they all had a co-op component, so I was going in largely blind. Is it nearly as bad as its reputation would have you believe? Read on to find out…
Oh and one thing I want to note before going further is that I played this game on Veteran on my first playthrough. This is in contrast to the other games on this list which I usually would play on Normal first time since I was unfamiliar with their gameplay. However, by the time I got to Resident Evil 6 I was like 5 Resident Evil games deep and figured I'd be down for a challenge (I usually prefer to play games on Hard if I'm familiar with their gameplay). I don't think this affected my experience with Resident Evil 6 disproportionately compared to other games in the franchise, but I wanted to note this just in case the higher difficulty did affect my enjoyment and I'm unaware of it.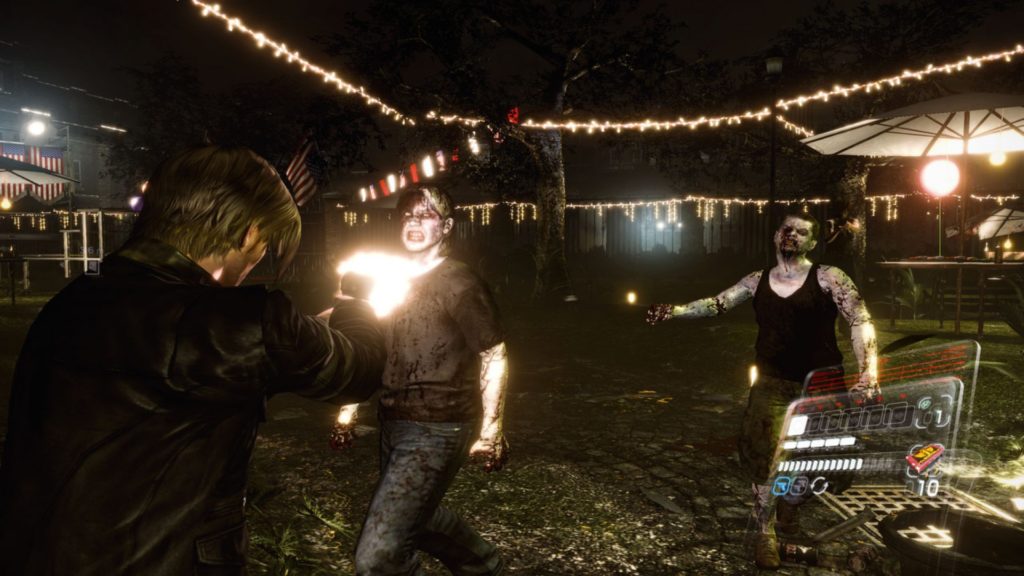 Love
Free Movement – After Resident Evil 5 took a half-measure of modernizing the series' movement controls, Resident Evil 6 goes all the way, ditching the last vestiges of tank controls in favour of Uncharted-style, fluid movement. It makes the game play far more intuitively for modern audiences without any kind of learning curve involved. In addition to this, Resident Evil 6 finally also allows players to move and aim at the same time, adds a sprint to your already-fast movement speed and even throws in options for slides, dodges and even shooting while lying on your back. These may not be the best option in most circumstances, but at least it's an option that you can utilize if you choose to (especially in boss fights). All-in-all, it gives Resident Evil 6 probably the most developed movement system in the whole franchise.
Gameplay and UI Customization – I'll be honest, I may have squealed a bit when I went into the menus in this game and saw all the customization options available. In addition to the standard options, there are several control customizations (including if you want to manually or automatically reload when you run out of ammo), you can choose whether you want a reticule or laser sight for aiming, and you even get to choose the colour of your laser sight! Given how I kept losing sight of the red laser in Resident Evil 5, I immediately went with green and never regretted it. It's a little thing, but holy crap do I love when developers go to the effort to include these kinds of optional quality of life improvements for players.
Improved AI Partner – Capcom must have taken some complaints about Resident Evil 5 to heart because your AI companion in Resident Evil 6 is (usually) great. In addition to just being straight-up smarter in the minute-to-minute gameplay, you never have to micro-manage their inventory, health, weapons, pathing, etc and they're even more helpful in combat. This makes the single-player experience a hell of a lot more enjoyable than I was expecting. Unlike Resident Evil 5, I didn't play any of this game in co-op so I have nothing to compare my experience to, but I can't say that I felt like I was getting a lesser experience, because my AI companion was mostly unobtrusive throughout. Sure, a human partner would have been more useful but an AI that stays out of the way, draws aggro and doesn't die is all I could ask for. That said, there's one big caveat to this and that's when your AI companion has to do something that's outside the scope of their normal tasks (eg, manning a gun camera, staying away from an enemy, etc). At these points their AI is completely useless and makes for some of the most frustrating sequences in the whole game. Still, compared to Resident Evil 5's pain in the ass AI companion? It's an undeniable improvement.
Unique Character Builds – I really like how Capcom have differentiated the characters in Resident Evil 6. Whereas Chris and Sheva played identically, every character in Resident Evil 6 brings something unique to the table, from their starting weapons to unique abilities. For example, if you play as Leon you start with a pistol and knife and can dual-wield with another pistol for crowd control, whereas Helena starts with a stronger pistol and a shotgun she can rapid-fire, but she has to deal with more reloading due to her smaller clip-sizes. The most unique pair have to be Jake Muller and Sherry Birkin. Jake gets powerful melee abilities, whereas Sherry gets a burst-fire pistol and stun rod, both of which bring entirely new options to the table when going through their campaign. These different loadouts encourage unique playstyles and it's enough to tempt you to replay each campaign just to see how it differs with the other character. That said, characters get a bit more homogenized as the game goes along – soon you'll find a shotgun, a sniper rifle and an assault rifle, but these are almost always some sort of unique variant for each character.
Melee System – I'm kind of torn on whether Resident Evil should even have a melee system to deal with enemies, but that said I really enjoyed it in this game. When you're not aiming a weapon, the attack button allows you to unleash a melee strike at a foe, which can be comboed to unleash a flurry of blows in quick succession. In Leon and Jake's campaigns, I actually prefer melee to shooting because most enemies will die to 2-3 hits (especially if you can get an environmental kill or kill them with their own melee weapon), or will get knocked prone so I can go for a one-hit-kill curb stomp if you position yourself near their head. Melee works on a stamina bar, so you can't spam it too much either, which encourages a healthy balance of shooting and melee for the best effect.
Some Attention to Detail Can Make Combat More Interesting – Imagine my surprise when I started shooting at a zombie and all of a sudden the flashlight mounted on the zombie's body got damaged and went out. Similarly, shooting a J'avo in the chest causes their shirts to get torn off from the bullet impacts. It was a bit of extra effort which didn't really do anything but was cool to see and made the world a bit more immersive. That said, Resident Evil 6 does give these bits of extra detail some actual gameplay importance later on when there are enemies carrying dynamite (either in-hand or on their body), oil lamps or grenades and if you shoot them it makes for an easy instant-kill on all surrounding enemies. Perhaps the most impressive example of this comes in the first fight against the Ustanak – the arena is full of cover, but Ustanak bursts right through it all to get to you, which is terrifying in its own right and further illustrates how relentless this foe is in an organic manner. This level of extra attention is the sort of thing I really didn't expect from this game but it was really cool to see.
Ustanak – Despite being a blatant Nemesis ripoff and having a design which screams "late 2000s edgelord", Ustanak makes for a fantastic antagonist in Jake and Sherry's campaign. Every time he shows up, shit gets real and the game gets a whole lot funner. In fact, he disappears for a good chunk of Jake's campaign and is definitely missed. There are also several boss fights with Ustanak and they're all by far the best and most impressive showdowns in the whole game. I particularly enjoyed the first and last Ustanak fights. In the first fight against him, the level of destructibility in the environment is shocking for a PS3 game and it does a great job of conveying just how dangerous Ustanak is (akin of what God of War would do to introduce Baldur years later). Meanwhile, the last fight is just badass, culminating with Jake literally fist-fighting Ustanak over a pit of lava and the whole fight makes great use of this game's dodge mechanics. I went in assuming Ustanak would be a discount Nemesis, but I was pleasantly surprised that he holds his own despite his obvious and far more iconic influence.
Mixed
Inventory Management is… Different – Inventory management has seen another drastic overhaul in Resident Evil 6. You open the menu which brings up a menu similar to the XMB UI on the PS3 – your horizontal cross houses weapons, items (like herbs) and ammunition, whereas the vertical bar holds grenades, explosives and first aid sprays. Oh and this is done in real-time like in Resident Evil 5, so enemies can attack you if you're not careful. It's pretty meh on its own, but what makes this better than Resident Evil 5's clunky system is that weapons and items are automatically mapped to the d-pad, making hotswapping far more easy. However, it also comes with the caveat that ALL weapons and items are mapped to this system, meaning that you'll likely have to cycle through several things you don't want before you reach the item you do want. In addition, if you use a grenade the game automatically swaps back to your weapon, so if you wanted to use another grenade you have to hotswap all the way back to find the grenade you wanted. It's still cumbersome but it works a bit better on the fly, especially if you memorize how many times you have to cycle through to get to the weapon you want.
The Graphics – I'm really mixed on the graphics in this game. The character models for main characters? They're quite good, I played this on PS4 and I wouldn't have noticed that this was a PS3-era game if I was shown the main character models. Pretty much everything else though? Hoo boy. The environments especially can look like ass, with textures so bad at times that they're literally PS2-era quality. NPC character models are also noticeably worse than the main characters; if some rando comes along and starts talking to the main characters, there's a stark difference in quality. This is actually a legitimate problem, because this happens several times in the campaigns and you can always tell that the poor bastard is about to be used as cannon fodder by the devs.
Improved Cover System – Compared to Resident Evil 5's half-assed system, the cover system in Resident Evil 6 works much better, although it is rougher than its contemporaries. Sometimes you want to free aim near cover, but it will automatically snap you into cover and mess up your shot. Or, let's look at the sequence of buttons you have to press to actually use cover and shoot an enemy, shall we? To take cover you have to hold L2, then press X, then move to a corner with the left analog stick and then poke out and shoot enemies… all while continuing to hold L2, because if you let go you will immediately exit cover. Could they not just make it a single button press? Press X to take cover, press X + left analog stick to vault. Simple, why do I need to press half the buttons on the controller for such a simple action? In addition, sometimes the system itself is just frustrating – I can't count the number of times it looked like I should be able to pop out of cover to shoot an enemy but the game just wouldn't let me, because it wasn't registered as a location where you're allowed to do that. It's functional enough, and you damn-well need to use cover to survive some of these campaigns, but it definitely could have been better.
No Weapon or Loadout Customization – While I appreciate that Capcom differentiated each character, that comes with the caveat that each characters' weapons are locked to them and unlocked at the same time in every playthrough. No saving up money to get a rocket launcher early or beelining through a dangerous area to get your favourite weapon, when Resident Evil 6 says you get a weapon is when it happens (hell, even if you miss picking up a weapon it will force it into your inventory by the time the next chapter starts). Again, I appreciate that this contributes to differentiating and specializing the characters, but it's somewhat disappointing compared to Resident Evil 4 and 5's system.
J'avo – After two games focusing on parasite-infected enemies, Resident Evil 6 brings us a new variety of cannon fodder in the J'avo. I was expecting to get another round of Plagas-esque parasites from these guys, but was pleasantly surprised to see something completely unique. J'avo initially are just psychotic humans with masks and extra sets of eyes, but they have the ability to rapidly mutate in response to your actions. Miss your headshot and hit the J'avo in the arm? It's suddenly going to sprout a massive arm that it will then attempt to beat you down with. Blow a J'avo's legs off? It might just grow a pair of wings and fly around to harrass you. You also run into various special J'avo, such as ones that skitter around like spiders, ones with grasshopper-like legs for long jumps, one with a Rhinoceros beetle head to instantly down you if you're caught and others with gigantic centipede-like heads which they use to hide their weak spot. They're a cool enemy type whose dynamic transformations make for really interesting combat… which makes it a shame that their actual implementation often spoils the promise they have. Most J'avo either run at you with a machete or spray bullets at you the second they see you, which isn't helped by their braindead AI. Seriously, you see these guys walking past you obliviously in a gunfight all the time. In Chris' campaign they can also be difficult to differentiate from your allies so you can find yourself getting attacked unexpectedly by a J'avo who wandered past you that you didn't even notice. Their transformations are still cool enough that I have to give them some credit but the actual execution is lacking polish. It's too bad, J'avo could be top-tier Resident Evil foes in a better game.
Jake and Sherry's Campaign – Of all the campaigns in this game, I was actually surprised to find that I enjoyed Jake and Sherry's the most. All of Resident Evil 6's campaigns are blatantly aping other game franchises which were popular at the time, but Jake's campaign is the most successful in this regard. It mixes the gameplay and character of Uncharted (seriously, about halfway through the campaign Jake and Sherry literally put on two of Drake's outfits) and the villain of Resident Evil 3: Nemesis to mostly-good results. There are all sorts of setpieces which are fun and just ridiculous enough to feel tongue-in-cheek (Ustanak chasing you through a convoy of helicopters and the avalanche snowmobile race being particular highlights), the gunplay is eased back enough that fights feel fun rather than a slog and it's the only campaign that has an ending that's at all satisfying. In fact, I would have put this under love if not for one major caveat – in nearly every chapter there will be one stretch of gameplay which ranks amongst the absolute worst in the entire game. I'm not exaggerating either, I really liked this campaign but these are inexcusable gameplay segments:

Chapter one ends with the awful giant J'avo fight which is just as bad as it was when I first played it in Chris' campaign.
Chapter two has a sequence which is damn-near unplayable in single player where Ustanak is breaking through a series of sealed doors and your success or failure hinges entirely on whether you can rotate the analog sticks extremely fast. With a co-op partner there may be more margin for error, but with an AI? That crazy bastard will walk right up to Ustanak and get instantly one-shotted unless you rotate those stick stupid fast. I only managed to get through this because there's a bug (?) where you can rotate the left and right analog sticks at the same time and this counts as rotating faster as a result, but I was absolutely infuriated dying here over and over again for no good goddamn reason.
Chapter three starts with an abysmal stealth sequence where enemies can spot you unpredictably and, if they do, you get swarmed until you die. Making it worse, enemy damage has been nerfed, but you have no real way of surviving, meaning that you die and restart the sequence slower. Again, this is designed with a co-op partner in mind, but the AI is not built to handle this kind of gameplay.
Chapter four has a sequence where you're supposed to help Chris and Piers deal with a helicopter, but all this really results in is you sitting around waiting for a helicopter to show up from off-screen so that you can miss your shot and have to wait another thirty seconds for it to come back.
Hate
The Story – My initial impression when starting Resident Evil 6 is that this game puts an emphasis on telling a cinematic story far more than any previous game in the franchise. I thought that perhaps the hate this game gets was due to this change in direction, but as I progressed further I soon came to realize that this game's story is not good. To be fair, Resident Evil games tend to have B-movie quality stories at best, but they either lean into the campiness (Resident Evil 4) or are unimportant compared to the survival gameplay (REmake 2). However, Resident Evil 6's story fails for several reasons:

Resident Evil 6 continues the po-faced, self-serious tone that 5 started. This could potentially work, but Resident Evil 6 also wants to be a bombastic action game like Uncharted, so one minute you'll have gruff characters having a serious conversation and then the next an entire highway will be exploding as you run away from flying cars, or you'll be jumping from one helicopter to another and then start shooting down your own convoy to stop an approaching enemy, all without a hint of irony. These spectacular setpieces could be incredible if the game leaned into the comedy of them, but they're so few and far between that I can't help but think that they were intended to be completely serious (at least in Leon and Chris' campaigns, in Jake and Sherry's they come often enough that it feels more intentionally campy).
The plot is also so poorly paced. For example, in Leon's campaign you spend an hour and a half in a zombie-filled campus before you get into a car and escape. I shit you not, you barely even get onto the road before the damn vehicle crashes and explodes. At another point, you fight through a swarm of zombies and then the second you get free from them suddenly a giant shark appears, not even giving you enough time to breathe and build the tension back up. Entire sub-chapters feel like they were done by separate teams and then mashed together in the end haphazardly. For another example, in chapter 2 of Chris' campaign you go from gunfights with enemies in the streets of a city, to fighting across a random bridge in the middle of a gorge, to suddenly being back in the city and then fighting at city hall with little-to-no story or context linking these gameplay segments together. On a wider-level, entire campaigns just feel "off". Again, Leon's campaign feels sluggish for the first three chapters, then suddenly in the fourth chapter they get to China and immediately get in a plane crash set piece, then there's two boss battles back-to-back and massive setpiece battles. It just feels like this plodding campaign goes off the rails out of nowhere. Similarly, in Jake's campaign he and Sherry get captured and spend all of chapter 3 trying to escape… only for them to get captured again at the end of chapter 4. It feels like a cheap excuse to get the characters from place to place but it is so deflating to the momentum of the story.
One of the major issues with Resident Evil 6's story is that it is fundamentally over-ambitious and bites off far more than it can chew. I addressed this in a previous article about Resident Evil 6, but to summarize the way that the developers have put four overlapping campaigns together makes it so that none of them can tell a satisfying story. Each one feels incomplete and incomprehensible on its own and even when you bring them all together it doesn't make for a better experience than one, focused, well-told story: it's just four half-baked stories. Ada's campaign especially gets shafted. I went in expecting her story to be the most important and revelatory, but instead we get one chapter of unique setup and then the other four chapters are 90% recycled content, anything from recycled boss fights to reused environments and enemy encounters, and Ada's role in the story becomes more about providing backup to the other characters rather than actually doing anything substantial on her own. Sure, we get a handful of revelations which explain what's going on, but the campaign itself feels like an afterthought.
Just… bad writing in general. I've already said that the campaign crossovers make it so that there's no satisfying payoffs in this game, but that's just the start of this story's problems. Take Chris' storyline, where for some inexplicable reason the writers decided to give him amnesia. This begs the question of why the BSAA would knowingly force a PTSD-ridden, revenge-fueled amnesiac to lead a squad into battle. It's so stupid and then Chris spends the whole campaign trying to get revenge on Ada Wong, until suddenly he runs into Leon and decides that he doesn't need to get revenge anymore. I've said it before, but it is literally that sudden. Oh and there's the constant shifting of the stakes – the J'avo attack in Eastern Europe and the catastrophic C-virus outbreak in Tall Oaks that take up entire chapters of gameplay? Just a distraction! The C-virus missiles being launched in Lanshiang are the real plan! Oh wait, these were also a distraction, the actual plan was… to have a single, giant BOW called HAOS escape and spread the C-virus through the Earth? WTF? (Also, given that all it takes to stop HAOS is the destruction of its containment facility, I'm pretty sure most governments could kill it before it becomes a problem, honestly missiles full of C-virus are way deadlier.) Worst of all though is the fact that this entire game's plot revolves around… Jesus Christ, it's so stupid, are you ready for this? The entire plot revolves around US National Security Advisor Derek Simmons being a simp for Ada Wong. When she rejects him he creates a virus to clone her, forcing a female scientist to become an Ada Wong doppelganger. The clone is so mad about this that she decides to destroy the world. Like… holy fucking shit, I have no words.

Unrewarding Level Design – One of the obvious ways that Resident Evil 6 takes inspiration from other AAA franchises of its era is that the level design has gotten far more linear, akin to Call of Duty. Resident Evil 4 and 5 may have ditched the maze-like exploration of Resident Evil-past, but at least those games had lots of hidden secrets and rewards waiting for those willing to go looking. Resident Evil 6, on the other hand, is distinctly underwhelming for those who bother going off the beaten path. You may find a crate that you can smash to get a little bit of ammo or a miniscule amount of Skill Points, but that's about it. Basically, nearly every level in Resident Evil 6 is functional window-dressing, funneling you along to the next gun fight and isn't meant to be appreciated on any deeper level than that.
Skills – Resident Evil 6 ditches the merchant/upgrade system from Resident Evil 4 and 5 in favour of the new skills system, which operates similar to Call of Duty's perks system. Honestly, this would be great if it was done as its own, separate mechanic, but as a replacement to the upgrade system it is infinitely inferior. Instead of improving the stats of my favourite weapons as the game goes on, I just get three flat upgrades to my character, which are far less consequential. Oh, and Resident Evil 6 doesn't put in interludes between sub-chapters, meaning that you only get to upgrade your skills at the end of a chapter or from the main menu, meaning you get far less use out of the system… not that you will get much use out of it anyway because holy shit any useful skill is stupidly expensive. Seriously, I've gone through entire campaigns and still haven't been able to afford an upgrade by the end, making this system feel even more unrewarding. This also means that your weapons never really get better – your weak-ass starting pistol is still your weak-ass starting pistol in the endgame unless you use one of your extremely limited skill slots on it and several chapters worth of skill points to improve it, but ultimately it's just not worth it.
Zombies – What's that, franchise purists, you miss zombies? Well, they're back in Leon's campaign in Resident Evil 6, for some reason (actually, the reason is literally because fans whined about it)! While I was initially rather impressed with the zombies in this game, they outstay their welcome quickly. On the one hand, they're suitably squishy and they can even be a bit scary at times when they swarm and suddenly pounce at you from afar. They also show up in urban locations, bringing us our first real glimpse of a Resident Evil zombie outbreak on modern hardware. That said, they can take a lot of shots to put down, which can be annoying for a game like this where you're expected to kill every enemy you come across and it gets really annoying when they're constantly pouncing on you and grabbing you, interrupting the action as you deal with their lengthy animations. What really annoys me though is the super-zombies which, by the time you reach the second chapter, the game will throw at you endlessly. They feel like a bunch of bargain-bin, Left 4 Dead knock-offs – screechers, berserk zombies and fatties… that's about it. They aren't particularly fun to fight and the worst part has to be their uninspired designs. This is a franchise where zombies stand side-by-side with iconic enemies like Lickers, Tyrants and Hunters and feel like they are an integral part of the experience, the "special" zombies in Leon's campaign are completely forgettable. Compared to J'avo, this game's zombies are underwhelming foes.
Respawning Enemies – You know what's annoying? Having enemies spawn from behind you, out of nowhere, all the time. Congrats, you now know what Resident Evil 6's combat encounters feel like. Seriously, you can completely clear out an area, move on to the next one and get into a gun fight when suddenly you're attacked by multiple enemies who showed up from behind you. While I have seen enemies spawn literally out of nowhere in this game, the main culprit seems to be Left 4 Dead and Vermintide-style "nests" where enemies can spawn at will and then enter the area. Unlike those two games, Resident Evil 6's system isn't nearly as dynamic or interesting. Hell, it even gets predictable and exploitable at times, because apparently the developers of Resident Evil 6 are terrified of the idea of having an area completely cleared of enemies. At one point in Chris' campaign I noticed enemies kept spawning from two directions, one at a time, during an encounter with a giant monster where I took cover in a place where the monster couldn't reach me. The enemies are obviously meant to keep pressure on you but they were so dumb and predictable that I could just cycle over to them every 15 seconds or so and then get back to the fight. This is a best-case scenario for the respawning enemies, usually they're just a frustrating pain in the ass.
Over-animation – Resident Evil 6 has a bad habit of over-animating actions to the detriment of the gameplay. Like, whenever a dead body is placed into the environment, your character will trip over them, causing you to lose control of them for a couple seconds as they stagger forward. This is especially prominent in Leon's campaign, but it is always incredibly annoying when it happens. You also get knocked down A LOT in combat. As I understand it, every time you lose a square of health you will be knocked down onto your back. With some enemies, this will happen every time they hit you. As you can probably imagine, this gets infuriating as you get up and then are immediately knocked down over and over again. In addition, there's also a baffling bit of animation in chapter 4 of Chris' campaign where the ship just… bobs and there's an animation as you steady yourself. It's completely random, very infrequent and I just had to ask why they even bothered to make this happen. (Pretty sure that this is representing Ada fighting her doppelganger during this part of the game… but still, why bother making a whole animation for this?)
Very Rough and Unpolished – For a game that had over 600 developers working on it, Resident Evil 6's quality is wildly inconsistent. On the one hand, you have those cool (but useless) details I mentioned earlier like being able to shoot out the lights on zombies. On the other hand, you've got things like terrible lip synching, sniper laser sights that clip through cover and a game engine that can't handle sprinting if you do it on stairs. Everywhere you look there's something that makes this game feel rushed, like the devs needed more time to actually go over everything and give it a consistent level of quality. There are far too many examples to go over them all, but one of the most egregious is that the NPC squadmates in Chris' campaign are completely braindead, unable to provide any sort of support in a fight and are more likely to stare at a wall than they are to actually shoot at an enemy. It's so bad that the game will actually spawn more allies ahead of you hoping you won't notice and will assume your allies are actually doing something. On the gameplay side of things, there's also moments that feel like they were barely tested to ensure they were actually fun. For example, in the underground in Leon's campaign trains will pass through the area. When one is coming, you literally have a second to figure out where a train is coming from (behind you, it's always behind you) and you get insta-splatted if you happen to be on the wrong side of the tracks at the time. Similarly, later on in the campaign you end up in Tall Oaks at a gas station where, late in a siege, an ambulance will come careening through the area out of nowhere. If you just happen to be standing in its path when this happens, you die and have to redo the entire fight. The first time I did this, my AI partner happened to be in its path and died. Suffice to say, I was livid, there was nothing I could do to avoid that cheap game over.
The Treatment of Female Characters – Resident Evil 6 feels like the peak of the PS3-era, pre-Gamergate, corporate-fueled pandering to teenage boys in gaming. Resident Evil games up to this point have always had female co-leads which were just as important (if not more) than their male leads (with Resident Evil 4 being the one exception, but that game also had a much different structure than past games and even this got rectified in the Separate Ways expansion that came out not even a year after the original game).

For a game that's so obsessed with reliving its past glories, great female leads like Jill Valentine and Claire Redfield are conspicuously absent. However, Sheva might be the most conspicuous omission of all. Chris' campaign continues exploring the heroics of the BSAA, but instead of bringing back Sheva or even Jill to act as Chris' partner, they're instead replaced with Piers Nevan, a boring, oorah soldier-boy type who feels like he was made specifically to pander to the male, teenage, Call of Duty-loving crowd. Given that this campaign was designed to be the most action-heavy, it wouldn't surprise me if the decision to have two male leads in this section was 100% deliberately intended to pander to teenage boys.
Helena Harper, Sherry Birkin and Ada Wong are cool characters in their own right, but it's all soured by all the design decisions in this game that make me roll my eyes. For one thing, we've got deep cleavage for Helena, Hunnigan, both Ada Wongs and Helena's sister (who, for bonus points, get transformed into a big titty naked mutant). Even Sherry at one point in the game gets captured and stuck in a medical gown that, for some reason, has a deep v-neck. In addition, Helena's storyline revolves around the idea that she's "too emotional" for her job as a Secret Service agent (the unlockable records literally state this), which results in her being used to assassinate the US president and causes an outbreak which requires an entire city to be nuked to prevent it from spreading. Oh, and the trophy for completing Leon's campaign? Literally "The Trouble With Women"… Like, none of the characters are stuck in bikini armour or anything like that, but seriously? Literally every female character in this game is showing prominent cleavage?
I also get annoyed by the way this game positions its characters and campaigns. In the records section, it's not Leon and Helena's campaign, it's "Leon's campaign". It's not Chris and Piers' campaign, it's "Chris'". It's not Jake and Sherry's campaign, it's "Jake's". It straight-up acknowledges that the male characters are what's important here not the women (and that Piers loser). This isn't a super big deal by any means, but when you add it on top of all the other decisions it's just another thing that annoys me about how this game places its female characters.
Here's a baffling bonus: during Leon's campaign there's a segment where you have to fight a boss inside a cathedral full of civilians. These civilians will almost certainly all be killed and/or turned into zombies during the fight – you can try to save them but it's almost inevitable that they will all die unless you go out of your way to save them. Well, turns out that there's a trophy for that… except to get the trophy you specifically have to save at least two female survivors for some reason. Oh, and the name of that trophy? "I Prefer Them Alive". Is… is that a necrophilia joke? Just… why, Capcom?
Resident Evil 6 is an over-ambitious mess of a game. It went the route that all AAA games of the PS3/Xbox 360-era were going and tried to be a bombastic, serious, cinematic action game and lost a lot of the series' identity in the process while not being anywhere near as good as the Uncharted, Gears of War or Call of Duty games it so wants to emulate. Hell, it's not even worthy to stand next to its closest contemporary, Dead Space. It's peak early-2010s Capcom, in trying to be something for everyone the devs bit off way more than they could chew, leaving us with a game that is lesser overall than if they had made a more focused experience. Thankfully, at least it seems that they took these lessons to heart because the series would make a dramatic shift going forward…
Please follow and like us: