This review has been a long time coming. Like, to put it into perspective, I tend to start drafts on my blog so that I remember ideas and am able to come back to them later. Sometimes they even get completed and get published here! Well, it was around seven years ago when I thought "hey, I love DOA: Dead or Alive and would love to write a review explaining why!" For whatever reason, that idea kept getting shoved back in favour of other ideas, but that draft has been sitting in here for literally years in various iterations, including two serious attempts to complete it that got shelved and the whole blog migration to WordPress. This also means that I have had to rewatch the film on several occasions whenever I planned on sitting down to work on this review.
Well, a few months ago I realized that I was rapidly closing in on my 300th blog post. Considering that I celebrated my 200th blog post with a review of DOAX3, what better time to finally get off my ass and review this movie? DOA: Dead or Alive is the best video game movie of all time and I'm going to explain why (yes, better than Detective Pikachu – no one is more shocked by that statement than me).
Production
After the box office success of the first two Resident Evil films, the producers of the first film, Paul W.S. Anderson, Jeremy Bolt and Bernd Eichinger, were eager to tap into the burgeoning video game adaptation gold rush and searched for the next big hit (funnily enough, of all the video game adaptations listed in production on that link, the only ones that would actually come out were DOA and Resident Evil: Extinction). Perhaps owing to Anderson's success with the 1995 fighting game adaptation Mortal Kombat, the producers decided to give Dead or Alive a shot – after all, it was all about action sequences and sexy women, so it would surely draw out all the teenage boys, right? Also being brought on to help produce the film was Mark A. Altman, who had previously produced freaking House of the Dead (fighting The Howling 2 for the championship title of most insane film to ever make it into theatres).
Corey Yuen was brought on as the film's director. Yuen was well-known for his impressive Hong Kong action films and fight choreography, and had just found success with Western audiences with The Transporter. Perhaps unsurprisingly, the lead actresses were all models: Devon Aoki (of Sin City and 2 Fast 2 Furious fame) was cast as Kasumi, Holly Valance (known for the soap opera Neighbours, Prison Break and… what, she was in Taken!? Oh shit, she was the pop singer Liam Neeson has to protect, of course!) was cast as Christie and Jaime Pressly (probably the biggest name in the main cast, best known for My Name is Earl) was cast as Tina Armstrong. The supporting cast are also filled with plenty of interesting actors. By far the most notable is professional wrestler Kevin Nash as Bass Armstrong. This was an absolutely perfect casting, he steals the show whenever he's on screen. The film also has several notable character actors and B-movie stars, such as Matthew Marsen (who has been in many films, but was last seen on IC2S in Atlas Shrugged) as Max, Eric Roberts (here playing a discount John Carradine) as Donovan, and Natassia Malthe (a kick-ass Uwe Boll regular) as Ayane. Some relative unknowns were also cast in major roles, such as Sarah Carter as Helena Douglas, Steve Howey as Weatherby and Brian J. White as Zack (who plays the role to perfection). Rounding out the cast were a pair of martial artists, Collin Chou as Hayate and Kane Kosugi as Ryu Hayabusa (he's fine for the role they wrote for him, but good God do not expect this Ryu to be anything like the demon-slaying badass from Ninja Gaiden or you are going to be disappointed).
Filming took place in various locations in China. Most of the cast had never played a Dead or Alive game before, although most checked it out during production (Matthew Marsden specifically acknowledged that he sucked at it). According to the "Making Of" featurette (which really sucks by the way, nearly half of it is uninterrupted footage from the movie), the cast trained for 3 months with US marines and martial arts experts in order to learn their characters' fighting styles. According to Sarah Carter, the entire cast performed most of their own stunts and some fight sequences could take up to 7 days to film (such as the impressive Helena vs Christie fight at the mid-point). The film also features a volleyball scene which was 100% pure fan service and which went through a staggering forty pairs of bikinis to complete.
Unfortunately for the producers, DOA: Dead or Alive didn't light up the box anywhere near as much as Resident Evil had. In fact, while those films had wracked up grosses over $100 million worldwide, DOA brought in a paltry $7.7 million on a $30 million budget. Ouch.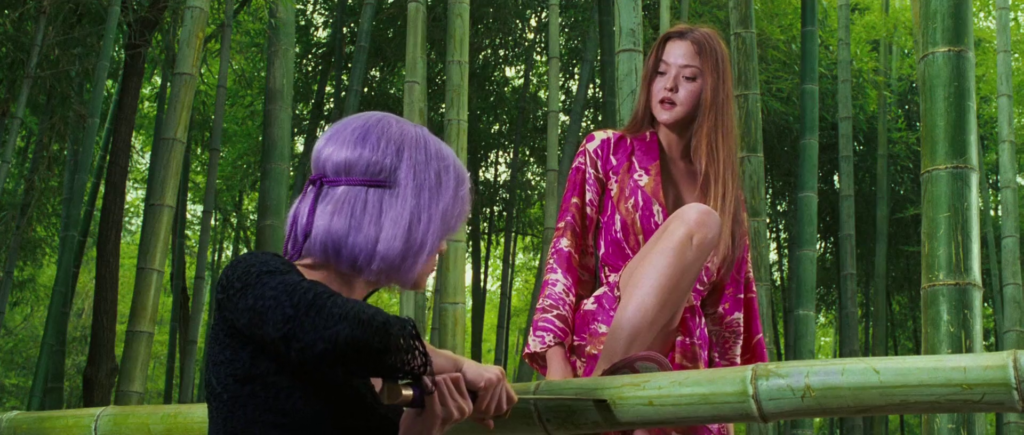 Plot Summary
The film opens at a ninja palace in the mountains where princess Kasumi resolves to find her brother, Hayate, who went missing after being invited to the Dead or Alive martial arts tournament and is presumed dead. However, she is warned by Hayate's friend, Ryu Hayabusa, that if she abandons the castle then she will be condemned to death by the laws of their people. Unperturbed, Kasumi escapes, pursued by her vengeful half-sister, Ayane, and is invited to participate in Dead of Alive. The film then cuts to Tina Armstrong, a professional wrestler who is trying to prove that her talents aren't all just showmanship (which she quickly proves to us by beating up a group of pirates who board her boat, securing her invite to Dead or Alive). Finally, we're introduced to Christie, a criminal who uses her femme fatale wiles to fight her way through a group of Interpol agents who have cornered her in her hotel room, earning herself an invitation to Dead or Alive in the process. With our main cast assembled, the group is flown to the island where Dead or Alive is held, alongside fellow competitors including Zack, Hayabusa (who has entered the tournament to watch over and protect Kasumi), Helena Douglas (daughter of the tournament's recently-deceased co-founder), Bass Armstrong (Tina's enthusiastic and laid-back father) and Max Marsh (Christie's partner in crime, who is joining her to try to steal the company's fortune). After parachuting to the island and traversing the rugged terrain to reach the tournament grounds, the group is introduced to Dead or Alive's organizer, Victor Donovan, who explains the rules of the tournament – fighters will be tracked with nano-bots, fights can be called at any time and any place with single-round eliminations determining who will move on to the next round of competition.
As the first rounds of the tournament slowly get underway, the characters begin getting to know each other. Zack spends all his time hitting on a very unreceptive Tina, while a computer technician for the tournament named Weatherby tries to work up the courage to ask out Helena (who, surprisingly, decides to give him a chance). Meanwhile, Kasumi continues her search for Hayate, avoiding attacks from Ayane and the other competitors. She is eventually joined by Hayabusa, but he goes missing while infiltrating Donovan's headquarters, making Kasumi even more suspicious about what's going on. Finally, Christie and Max discover the location of Dead or Alive's vault and try to figure out the password to get inside. Max eventually realizes that the code is tattooed on Helena, a fact which adds additional tension when Helena and Christie are paired off against one another in a quarter finals match. After an intense fight, Christie manages to come out on top while also discovering the tattooed code.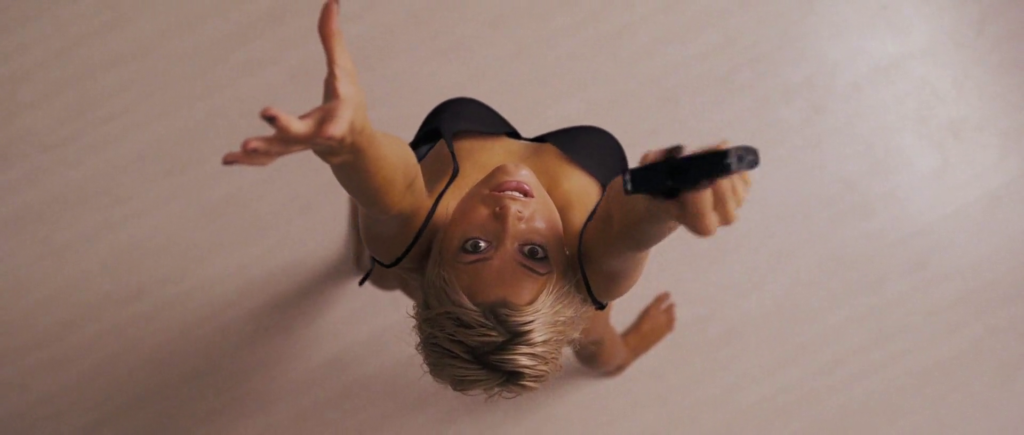 Concerned about Hayabusa, Kasumi convinces Tina and Christie to join her in infiltrating Donovan's headquarters. They discover Hayabusa unconscious, but are incapacitated and captured by Donovan. Meanwhile, saddened by Helena's defeat to Christie, Weatherby confesses to Helena that Donovan is working on some sort of secret project and that he believes that her father was murdered to cover it up. Helena decides to stop Donovan, but they are attacked by his cronies. They manage to defeat the mob and then head into the complex to get to the bottom of Donovan's scheme. Donovan monologues to the captured heroes about his plan – he has been using the nanobots in their bloodstream to collect data on the worlds greatest fighters, which will be fed directly into a pair of computer-enhanced glasses he has developed, allowing him to instantly learn their techniques and counter them all. He plans to sell these glasses to several international criminals to rake in millions of dollars. Donovan then reveals that Hayate is still alive and uses him as a demonstration of the glasses' power, defeating him in one-on-one combat easily and throwing him through a wall. He is left to die but Ayane saves him, which causes her to finally realize that Kasumi was right all along.
Before Donovan can send the data to his buyers, he is interrupted by Weatherby, who cuts off the upload and alerts the CIA of Donovan's dealings. Donovan and Helena fight while Weatherby frees Hayabusa, Tina, Kasumi and Christie just before Donovan actives a self-destruct sequence. The fighters all converge on Donovan, with Helena, Kasumi, Ayane, Hayate, Tina and Christie all beating on the old man at once while Weatherby and Hayabusa try to find an escape route. They encounter Max, who has been trying to break into the vault, and help him escape (despite his protestations). Overwhelmed by the sheer number of people attacking him, Donovan's glasses are knocked off and he is left in a paralytic state by Hayate and Kasumi and watches helplessly as the heroes all escape the island before the base explodes, consuming Donovan in the inferno. The group quickly come across the pirates who Tina had fought earlier and steal their boat as they ride off into the sunset… to a final stinger where our heroines all face off against an army of ninjas at Kasumi's palace.
Review
The opening of DOA is a perfect encapsulation of what makes this movie work. It starts with a terrible CGI tracking shot through a palace in the sky and then assaults us with stilted acting, bad dialogue and melodrama… and then suddenly Kasumi's escapes by throwing a sword into the wall, leaps the cross the backs of an entire army, uses the sword as a springboard to launch herself over the walls of the palace and then reveals that she has a freaking hang glider hidden under her clothes to sail away as a robot ninja star just comes out of nowhere and invites her to DOA.
Holy shit, what did I just watch?!
The movie just gets better from there and makes it unmistakable that Corey Yuen and his cast know exactly what kind of film they're making and then wring every ounce of fun out of the premise that they can with tongue planted firmly in cheek. That's the thing, DOA has several elements that would tank any other film – paper-thin story, bad acting, a stupid and cheap third act, etc. However, Yuen executes this all in such a manner that they either don't matter or they even enhance the experience. For example, how many times have I criticized Resident Evil for its crappy stories? The difference here is that the story serves DOA's actual strengths – fantastic action sequences and fun characters (and for the record, these are the exact elements that made the two Resident Evil movies I actually like work). There's very little time wasted on pointless exposition or worldbuilding, the film knows what you're here for and it will give you enough to make that function and create some stakes in an efficient manner. Again, this would usually sound like a bad thing, but how many action movies have we seen where they put in a forced romance, or set up a long-winded relationship in order to give our character motivation when it's taken away, or just spent time trying to prove that this is not "just some b-movie"? There's a reason movies like Mad Max: Fury Road, Taken and John Wick are so beloved and that's because they cut the fat… and it just occurred to me while typing this sentence that I'm unironically going to argue that DOA: Dead or Alive is at least in the same ballpark as those movies.
First off, DOA has some fantastic fight sequences. This should be expected, but you'd be surprised how many video game movies (let alone lower-budget movies in general) that are all about their action sequences fail to even surpass this simple hurdle. Films like The Legend of Chun-Li are supposed to be all about the action but fail to even succeed there. Again, look no further than the most recent Resident Evil, which was basically just an excuse to string together action setpieces but which had the worst directed and edited action sequences in the franchise so far in the process. In this regard, DOA scored a homerun right off the bat by hiring Corey Yuen, whose expertise is clearly reflected in the plethora of fun and exciting fights peppered throughout this film's runtime.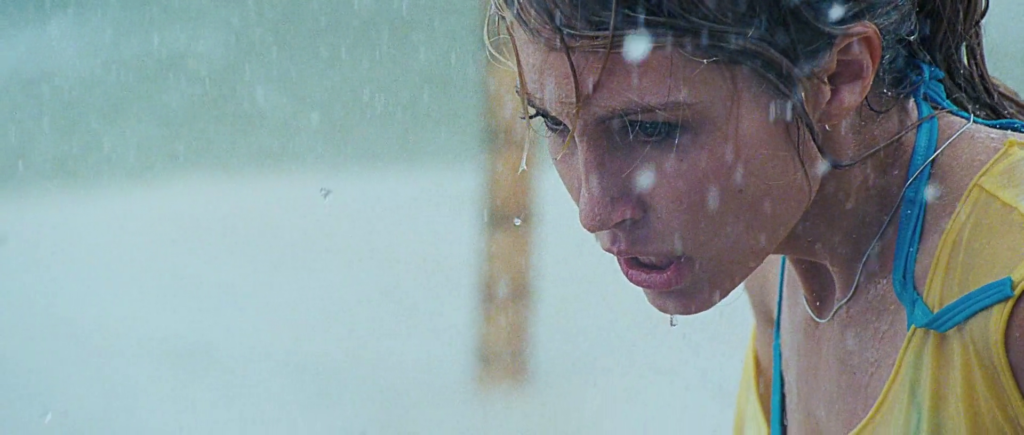 There are two particular sequences I want to highlight – the showdown between Kasumi and Ayane in the bamboo forest and the rain-soaked, bare-knuckle beatdown between Christie and Helena. The bamboo forest fight is a clear riff on Crouching Tiger, Hidden Dragon as a sword-wielding Ayane tries to kill an unarmed Kasumi and features all sorts of acrobatics, wire stunts and creative use of the environment to allow Kasumi to survive her half-sister's furious onslaught. I highlight this particular fight because it's basically just thrown there for the sake of an action sequence, but it's so damn cool that it doesn't matter that it halts the actual story for a couple minutes. On the other hand, the fight between Christie and Helena is not only really cool (shot in slow-motion close-ups during a pouring rain storm), but is also tense because we have no idea who is going to win. We like both characters by this point and don't want to see either of them lose. Some of the best acting in the film is demonstrated in this sequence, you can really feel that these characters are fighting a desperate battle against one another and doing whatever they can to come out on top. In a movie with tons of great fight sequences, this one really stands out because it makes you realize just how effectively it has gotten you to like these characters.
That's another big strength of DOA – the characters are all really fun (well, mostly, but we'll get to that). It helps their personalities and motivations are conveyed perfectly through the action sequences… again, just like Fury Road. I mean, just look at the character introductions for an example. Tina gets introduced complaining that, as a wrestler, she's not taken seriously before her boat gets boarded by pirates. She takes the opportunity to then beat the crap out of them, proving to the audience that she is indeed a formidable fighter (and even kind-hearted as she allows the last pirate to throw himself off the ship to spare himself a beating). Meanwhile, Christie's introduction establishes that she's a charming femme fatale, using her sexuality in order to get the upper hand when she's ambushed and seemingly cornered by Interpol. Hayate gets one of these introductions in a flashback as well. Need to prove that he's the best fighter in the world? How about have him chuck a bunch of needles at a group of bandits, snatch these needles out of the air and prick the bandits in their pressure points to paralyze them all? Holy shit, this guy's amazing! It makes Kasumi's unrelenting search and Donovan's later beatdown of Hayate all the more effective.
It's not just about the fights though, DOA's characters are also just fun to watch interacting with each other and have great chemistry. The most obvious example of this is Kevin Nash's Bass Armstrong and his interactions with Tina. He's like the ultimate goofy, macho dad and Tina is constantly embarrassed by his inability to take anything seriously. This comes to a head when Tina and Bass get matched against each other and he bursts into her room, only to sheepishly back out when he realizes that he might have just walked in on Tina and Christie in bed together (in reality she was just sharing a bed because Christie's room got trashed). It's adorable how supportive he is of his daughter and is obvious that there's a lot of love between them, even if there appears to be friction most of the time. Weatherby and Helena's relationship is also quite cute. While Weatherby is a dork and it strains credulity to think that Helena would find him interesting, the fact that she does is adorable and both are kept interesting enough and have enough relevance that it doesn't feel like either is a dreaded "generic love interest". Or how about how the film establishes that Kasumi, Christie and Tina are now friends with each other? When the group parachutes onto DOA island together, they have to reach the tournament grounds in time or be disqualified. Initially they're all looking out for themselves while climbing the temple, but quickly realize that they're not going to make it unless they work together and are soon a solid team. It's simple and obvious, but effective visual character building.
Unfortunately, DOA's one big stumbling block in terms of its characters is in its lead, Kasumi. Devon Aoki's performance is extremely flat and I can't help but feel like this was intentional – Kasumi herself is a bit of a personality-void in the games and I think they were trying to capture the same sort of stoic heroine energy. It's a shame because Aoki seems very charming and fun in the film's "Making Of" feature and it would have been nice to see her in a role that didn't require her to be so serious the whole time. Similarly, Ayane is also very one-note, just pissed off all the time, while Ryu Hayabusa is downgraded from a demon-slaying badass to Kasumi's generic love interest. Whenever Kasumi's plot is in control the film loses some of its luster, but thankfully it's more than made up for with the subplots revolving around Christie and Tina (and eventually Helena).
Another remarkable element of DOA is that the film is one of those weird movies that manages to strike the fine balance between being sexy and empowering at the same time. This is especially surprising given Dead or Alive's reputation as a pervy, tit-obsessed series (this certainly wasn't helped by the fact that Dead or Alive: Xtreme 2 released only a month after DOA hit theaters). DOA does a far better job of balancing this out, if only because the cast are real human beings and not a bunch of 36DD teenagers and so they can't just take the easy route by going with over-the-top eye-candy. Sure, the girls are in bikinis on several occasions and there are lots of shots of cleavage and butts, but it comes across far better than in the games. The games are usually just voyeuristic but when they fetishize the girls it can get straight-up creepy, not to mention that the games try to maintain this weird sort of "innocence" to them all, like they don't realize that they're all stupidly-hot. In DOA, the women all own their sexuality – if they're in bikinis it generally makes sense (it is a tropical island after all and they're often in down-time between fights) and they're not treated like these chaste, untouchable angels with no idea of how beautiful they are. Hell, Christie is straight-up sexually active in this movie, well-aware of her wants and desires and not afraid to use her allures to get the upper-hand on an opponent. It's kind of like Bayonetta in this regard, where the female characters are framed by the male gaze, but they don't allow it to trap them. Beyond the characters' sexuality though, the female cast just kick a ton of ass throughout the film. That's actually a strength inherent to the games themselves, where several women can go toe-to-toe with the best male fighters in the world and play out their interesting storylines, but the focus on tits always drowns this out and drowns out an otherwise empowering premise. Freed from pervy obsessions, DOA shows us just how awesome these women are as they take down an evil conspiracy with their fists. I'm not sure I'd go so far as to declare the film to be outright feminist, but it's sure as hell a kickass girl power romp.
I also have to mention the third act, which is a potentially make-or-break part of the film. For my part, I think it's fucking hilarious and the perfect cherry on top of an enjoyable sundae, but I can understand if someone would think that it's terrible. Basically, as soon as Donovan's evil plan is revealed, DOA turns into a G.I. Joe-level cartoon. The sets get really cheap looking and the plot goes off the rails because Donovan's master plan is stupid beyond comprehension. Okay, cool, you've scanned all the fighting techniques from the world's best fighters and downloaded them to a set of smart glasses which show you how to fight and beat any opponent… There's just so much about this that's pants-on-head stupid. First of all, how do you react quick enough to the glasses' prompts to even fight back? Second, boy it sure would suck if your opponent decided to shoot you instead of engaging in hand-to-hand combat. Third, why make the crux of this evil plan revolve around a fashion accessory which is notoriously easy to knock off, especially when you're doing quick actions like… oh, I don't know, fighting people? Fourth, why then antagonize the fighters you stole the data from!? If he had just waited til the tournament was over to sell the data to international terrorists (some of which look like random incels wearing sunglasses!) you wouldn't have gotten defeated like an idiot! It's so dumb, but given how intentionally tongue-in-cheek the rest of the film has been I can't help but think that this plan was made so campy on purpose, so I'm more than willing to go along with it, grinning like a madman all the while.
If we're being entirely honest, DOA isn't a top-tier movie by any means. The acting is fine at best, the story is clearly bare-bones and the low budget makes it look cheap at times. Films like House of the Dead or Street Fighter: The Movie may be similarly fun and hilarious, but it's clear that they were not intended to be enjoyed so ironically. On the flip-side, recent acclaimed video game movies like Detective Pikachu and Sonic aim to be taken more seriously, but they're just ultimately mediocre popcorn films with boring characters, unimpressive action sequences and questionably-structured stories. However, everyone involved knew exactly what sort of film this was and they did away with pretension to maximize its strengths and make it as enjoyable as possible with tongue planted firmly in cheek throughout. That puts it well above every other video game movie out there.
6.5/10