Welcome back to the Resident Evil love/hate series! In this entry we're going to start arguably the most prominent and popular spin-off series in the franchise, Resident Evil: Revelations. Conceived as an interquel set between Resident Evil 4 and 5 and initially designed as a handheld experience, Revelations has since made its way to TV screen and computer monitors. This game also came out at a time when Resident Evil was at its most troubled – the horror elements of the franchise had been forgotten and Resident Evil 6 and Operation Racoon City were just on the horizon to make things even worse. With all this in mind, how does Revelations hold up today compared to its full-fledged console brethren? Read on to find out…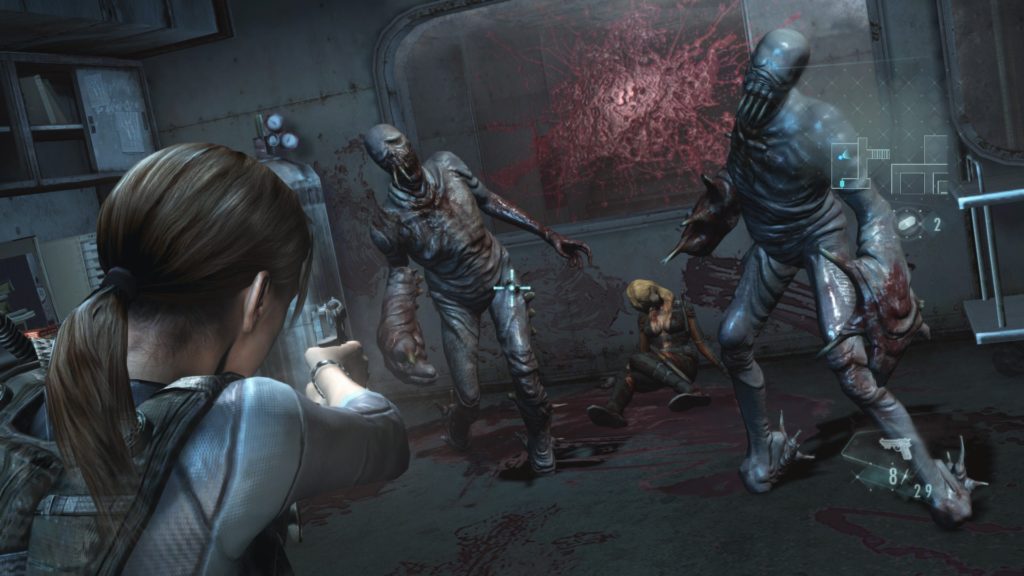 Love
Really Impressive For a 3DS Game – While it's not quite on the same level as Metal Gear Solid: Peace Walker, Revelations makes the jump from handheld to console surprisingly well. You can definitely tell that the game was designed for less-powerful hardware – the graphics range from near PS3-quality for some of the character models to sub-PS1 for parts of the environment, the animations (especially for enemies) can be very stiff and limited and the whole experience feels like Resident Evil 5-lite. However, this ultimately makes the game all the more impressive because throughout the entire playthrough I found myself saying holy shit this was running on a 3DS?!
Great Pacing – Resident Evil games, especially after 4, had a bad habit of trying to stretch out their levels as much as possible, making each one take around an hour to get through. Revelations, on the other hand, is designed for handhelds and so most levels top out between 30-45 minutes, which are often divided up between 5-30 minute chunks of gameplay, and each chapter ends with some sort of cliffhanger which makes you want to find out what will happen next. Honestly, I enjoyed this "TV drama" approach more than I expected to.
Some Great New Characters – Resident Evil can struggle at times to introduce interesting new characters (or, hell, can be adverse to introducing any), but Revelations has a bunch of fun, delightful additions that I really want to see come back to the franchise someday. The most notable is Parker, a super charming guy who is as memorable as fan-favourite Barry Burton. BSAA director O'Brian is also a solid character, literally a Colonel Campbell type (they even got Paul Eiding for the English dub to play him). Despite being one-note, I also found Jessica to be quite endearing, especially because she plays off of Chris and Parker well. I would be sad if none of these characters ever return to the series – don't make me sad, Capcom!
Return to Classic Level Design – Resident Evil 4 moved the franchise towards a more linear level design, but a good chunk of Revelations harkens back to a more classic-style in line with the original Resident Evil. Over the course of the game, Jill will explore every area of the Queen Zenobia at least twice over, coming back to get to previously-inaccessible rooms and items as you go, which keeps the environments from feeling overly-repetitive. Like I've said, it's pretty stripped-down compared to the classic Resident Evil games, so don't expect to find an item and then have to trek to the other side of the ship to use it, the game is pretty good at funneling you where you need to go (which is good because the in-game map is not very helpful and the Queen Zenobia isn't anywhere near as memorable as the Spencer Mansion or Raccoon Police Department).
Genesis – I was initially annoyed by the introduction of the Genesis scanning system; it felt like an unnecessary barrier to item discovery, when you should be able to just pick items up in the environment. However, soon enough I found it to be a fun, optional bonus you could use. Low on ammo? Pop out the Genesis and you're sure to find some. It's also very handy that when you walk into a room the scanner will tell you if there's an item there, so you don't have to waste time searching every corner of every room. It also has the bonus function of producing green herbs when you scan enough enemies… but it's most effective when they're still alive (some enemies can't even be scanned when they die because their bodies dissolve immediately), so you have a strategic decision to make when using it. I'm not sure I'd like this to be added to any other Resident Evil game, but it works surprisingly well here.
Weapon Upgrades System – Revelations may have my favourite weapon upgrade system in the entire franchise. Hell, Revelations may have my favourite kind of weapon upgrade system in any game. Put simply, you'll find parts kits in the environment as you play, the most valuable of which are in hard-to-reach places and/or hidden with the Genesis. If you're actually looking for them, you should find one or two kits every time you set off to complete an objective. These kits allow you to equip perks onto your guns at workbenches. Each gun comes with a certain number of perk slots, perks can be swapped in and out at will and some perks are exclusive to each weapon. Furthermore, each perk has multiple levels of effectiveness which dramatically improve their quality (eg, Damage 1 boosts your gun by 10%… whereas Damage 5 boosts it 50%). All-in-all, it's a great system that gives you a ton of flexibility and customization, encourages exploration to get the most out of your weapons and are doled out at a good pace to feel rewarding.
Mixed
The Shooting Gameplay – Revelations plays a lot like Resident Evil 5, which I was pretty meh on. Thankfully, the enemies in this game aren't quite as bullet-spongey, but some of the endless shooting galleries (especially any time Hunters are on-screen) get to the point of being tedious and mind-numbing. Unlike, say, the Resident Evil 2 remake where you are encouraged to avoid/ignore enemies when you can, Revelations seems to expect you to kill everyone you come across, which clashes somewhat with the more classic survival horror elements of the game. It can be especially problematic during the handful of sequences where you get absolutely swarmed by enemies, where your success or failure will likely come down to whether you happen to have enough ammo stockpiled.
Hate
…And Some Awful New Characters – As much as I like the new cast in Revelations, there were some utter stinkers added to the roster which I would be remiss to ignore. Worst of all has to be Quint, an annoying dork who refuses to just shut the hell up for five seconds. He's joined by his comedy side-kick, Grinder, who isn't anywhere near as bad but ever time Quint said his nickname (which is all the time) all I can hear is "Grindr"… Anyway, this game is also saddled with Raymond, an even bigger dork with an awful, out-of-place anime character design, complete with huge red haircut and gigantic chad chin. Raymond himself isn't that bad, but his design is so off-putting that I hated every moment he was on-screen and it definitely undermined the "cool guy" energy they were clearly aiming for.
Dodging – Okay, I will acknowledge that there is a good chance that this may be 100% on me, but holy fuck I could not dodge to save my life. There's a whole dodging tutorial section in the early parts of the game where it tells you "move your analog stick and press X to dodge" and if you do it at the right time your character will dodge. Simple enough, but Jesus Christ it doesn't work. First of all, there is no associated animation for a failed dodge, so you either do it perfectly or don't do anything, making it difficult to know if I'm even performing it right. Secondly, I would constantly perform dodges at random in this game without even intending to and I can tell you for a fact that all I was doing at the time was moving the stick, I was definitely not pressing X too. Worst of all, dodging is crucial for your survival, because several enemies and attacks are clearly designed to be dodged and your health reserves will barely get you through on Normal if you can't. Anyway, suffice to say I got extremely frustrated during the dodge "tutorial".
Story Goes Off the Rails – I'll be honest, for the first half of this game I was enjoying the story here way more than most Resident Evil games. The TV drama format means you're getting new twists and turns every 30 minutes or so, but at a certain point it just collapses in on itself. Probably the dumbest moment in the whole game is when you play as Chris and Jessica fighting your way through a ship to rescue Jill and Parker… only to get to the end of the level and discover "oh no, the princess is in another cruise ship!" Seriously, someone decided that it was a good idea to have two identical cruise ships with monsters in them and the only reason I can think for that is to pad the runtime and reuse some areas for a dumb twist. As if that wasn't dumb enough though, it turns out that there's also a third ship after all this. Oh, and the whole plot is a false flag operation orchestrated by O'Brian to prove that his boss is a terrorist-sympathizer… which he does by unleashing a deadly virus on two (retired) cruise ships and then throws his best agents into them because he can't risk having the truth leak out! Throw in a couple non-sensical betrayals and it's pretty clear that twists took precedence over a coherent and satisfying narrative.
Enemy Design – The design of the T-Abyss monsters really doesn't do it for me in this game. On the one hand, blob-like enemies hadn't been done in the franchise at this point, I can appreciate their deep-sea creature inspirations and they're differentiated well enough that you can always know exactly what variant you're fighting. However, blob monsters seem so uninspired to me. Their jerky motions remind me of the necromorphs in Dead Space, but their design as a bunch of flesh blobs make them far less interesting and disturbing as far as I'm concerned. On the other side of the coin, the Hunters and infected wolves clearly got the short end of the stick here, as each are clearly given far less attention with their animations and attacks, preferring to just swarm you and hope you don't notice.
Partner AI – I'm not even sure why Revelations has a partner with you at all times, because they are basically useless. I can only assume that "everyone liked it in Resident Evil 5" so it's an expectation that it will be there? Anyway, your partner will never do anything useful in combat, can't hold items for you, can't heal you and will rarely draw any sort of aggro for you… Honestly, the only good part about having an AI partner with you for the whole game is that at least it helps flesh out their character, which is a big reason why I liked Parker and Jessica so much.
Jill's Redesign – This is a pretty minor issue all-told, but I couldn't get it out of my head throughout the entire game. Capcom changed Jill's face model for this game and it just feels… wrong. The new model isn't that far off from the one they had been using from Resident Evil remake through to 5, but (weirdly enough) that just makes it feel worse, like they subtly screwed up how she's supposed to look.
Horny Devs – Resident Evil 6 was in development at the same time as Revelations and you can definitely see that both games had the same level of horniness in the dev teams (for better or worse). First of all, Jill has a dump truck ass in this game and is always showing some cleavage. This is super minor and I wouldn't have minded at all if that was the end of it, but there are two particularly egregious offenders. First of all is Jessica, whose special ops wetsuit design apparently doesn't need to cover an entire leg or ass-cheek. It's just so transparently horny that even the guy who designed her thinks it looks stupid. The worst offender is, without a doubt, Rachel Foley, an agent who goes into combat on the Queen Zenoba with her two gigantic knockers exposed. You come across her getting fucking murdered right in front of you and you're probably going to come away from all that thinking "man she had big tits". Oh, but then she gets infected with T-Abyss and takes it to a whole other level as she suddenly becomes the only ooze monster to retain enough of a human shape to be constantly thrusting her bulbous boobies at you. I've heard justifications that they were trying to mix horror and eroticism together in this design, but it just looks like some weirdo's fetish unleashed. Naturally, Rachel has become one of the most popular Revelations characters, fancy that.
While it may look like my opinions on Revelations are polarized, I honestly feel like most of the "Hates" are relatively minor. Overall, I really enjoyed this game, the mixture of classic Resident Evil level design and Resident Evil 4 and 5's gameplay works really well and its characters and unique eccentricities really grew on me the more I played. It just goes to show what you can do with a strong design team, even on an underpowered system like the 3DS.
Please follow and like us: